​The perfect needles for all needlework enthusiasts.
​No matter who you're making your next needlework project for, we have the perfect quality needle for you in our Prym Originals range.
​You interpret tradition in a modern way and enjoy making someone special happy with your creative needlework project.
With variety, quality and durability, Prym Originals ensures that your favourite needlework techniques are fun and enjoyable.

​Variety & Quality
​ A wide variety of choices in various thicknesses and lengths - the right needle for everyone.
​Easy gliding
​Smooth, free of pores and non-abrasive for an optimum gliding action.
​Seamlessly connected
​Flexible rope - barely noticeable transition from shaft to cord for trouble-free gliding of the stitches.
​Needle point
​Ideally shaped for professional knitting.
​Discover the variety of Prym Originals.
​The high-quality needles from Prym Originals are our classics, which we have given a new lease of life thanks to the improved and plastic-free packaging concept.
The range variety leaves nothing to be desired - the needles are available in almost all lengths and thicknesses. The variety of materials includes aluminum, plastic and brass.

The aluminum and brass knitting needles are smooth, hard-wearing and particularly light. They are well suited for fast knitting and crocheting with smooth yarns. The optimally shaped tips are shaped in such a way that thread splicing is just about impossible, but easy insertion is ensured.

Plastic needles are lightweight and have a particularly smooth surface. They are therefore particularly suitable for beginners, as they are easy to hold and the yarn glides well.

Crochet hooks with a soft-touch surface provide a non-slip grip, making crocheting easier. These crochet hooks are especially good for tighter crochet techniques such as amigurumi.
​Single-pointed knitting needles
​With lightweight aluminum single-pointed knitting needles, everyone can find the optimal needle for their knitting in a variety of lengths and thicknesses. Thanks to the non-porous and abrasion-resistant shaft, the stitches glide effortlessly over the needles during knitting. Another highlight is the finely rounded tip, which ensures that the stitches are picked up without splitting the yarn. The color-coded needle size is placed on the head of the knitting needle, so that you can quickly find it in the needlework basket. The pearl gray aluminum knitting needles are available in lengths from 25 cm to 40 cm in many gauges.

The light single-pointed knitting needles from gauge 8 are made of grey plastic. They can be used to create numerous trendy pieces such as loop scarves, coarse-meshed cardigans or sweaters, or home decor accessories. These single-pointed knitting needles are available in optional lengths of 35 or 40cm and are easy to hold despite their thickness.
DISCOVER PRODUCTS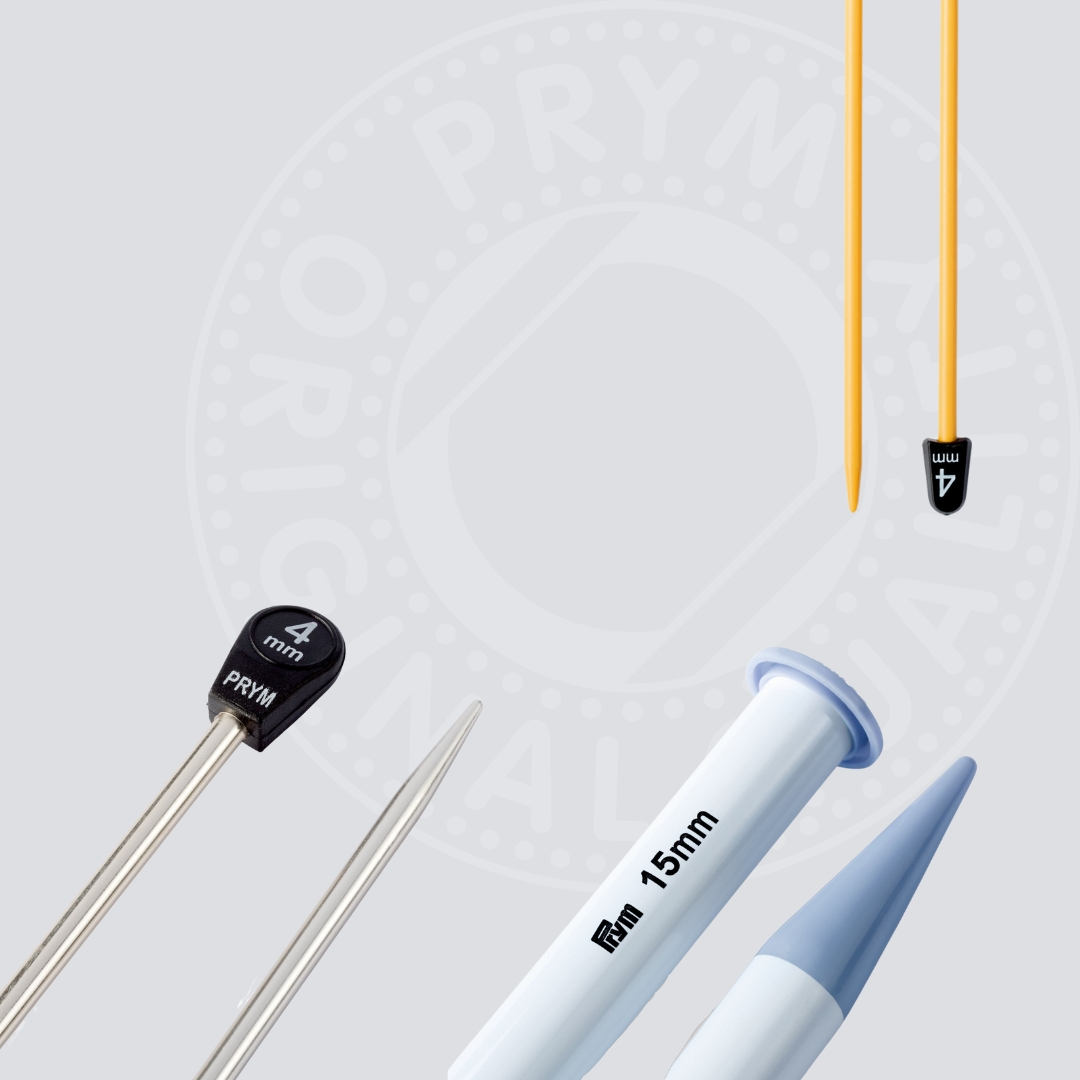 ​Double-pointed knitting needles
​This wide range of Prym double-pointed knitting needles in a large number of gauges and lengths offers a solution for every need. The knitting needles are suitable for all circular knitting projects - from stockings and socks to hats, gloves and much more. Thanks to their smooth, non-slip surface, stitches glide easily over the needles, allowing for relaxed knitting even over hours. The neutral grey colour allows you to see the stitches clearly. These double-pointed knitting needles are light and are available up to gauge 5.0 mm in pearl-grey aluminium. From gauge 5.0 mm the needles are made from grey plastic.
​DISCOVER PRODUCTS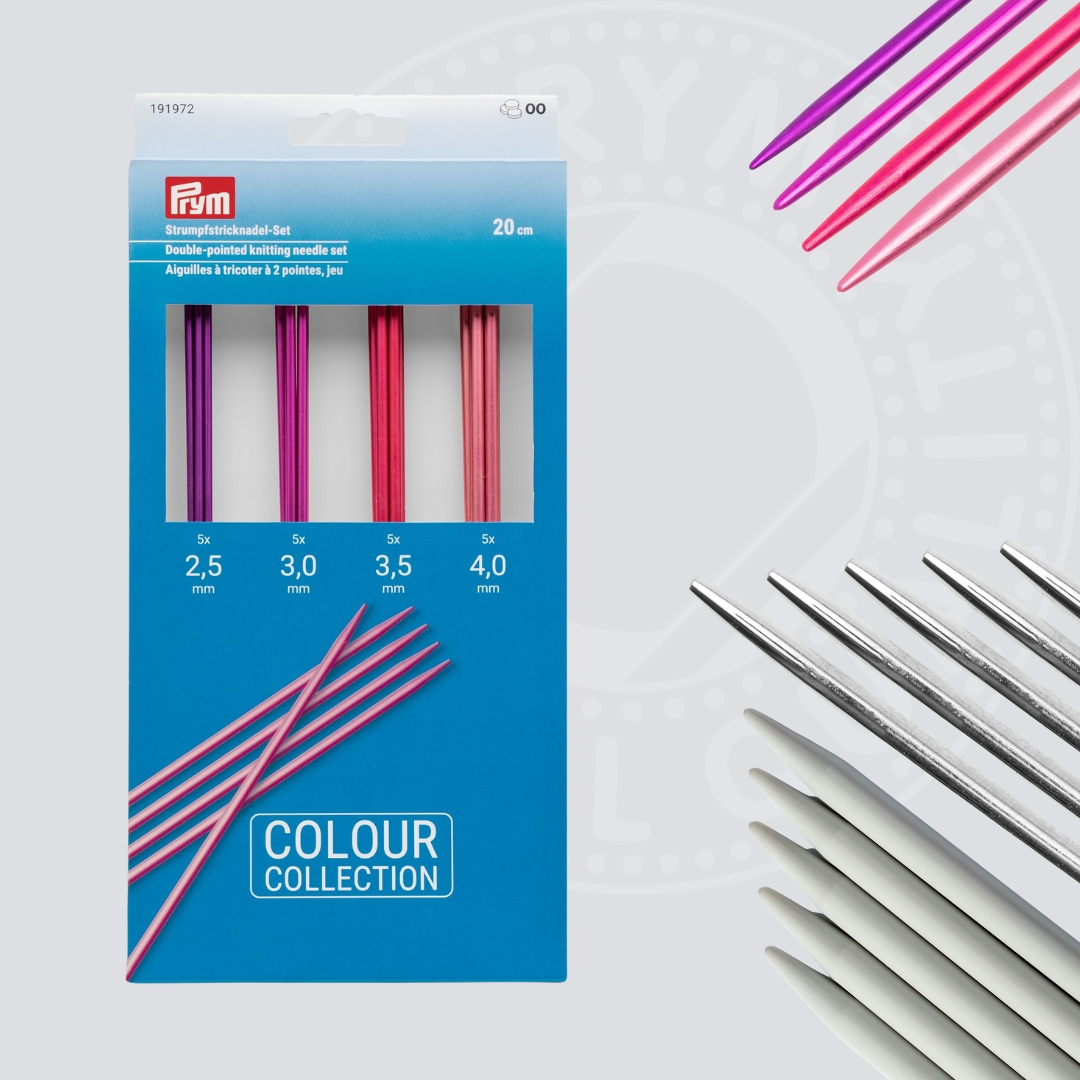 ​Circular knitting needle
​The circular knitting needles made of aluminum or brass with flexible plastic cord are exactly the right choice when it comes to knitting sweaters, jackets, scarves, hats and much more. All needles have a smooth, abrasion-resistant surface so that optimal gliding is guaranteed. At the same time, the needle tips are precisely shaped so that the tips grip the stitches easily and effortlessly. The aluminum and brass circular knitting needles are available in sizes 1.5 - 7.0 mm. To ensure ease, the sizes 8.0 to 20.0 mm are made of plastic. The shank of the aluminium circular knitting needles is bent and makes knitting in rounds easier, as the knitting project automatically takes on the correct shape. The cords of the circular knitting needles are unbreakable, flexible and antistatic.
​DISCOVER PRODUCTS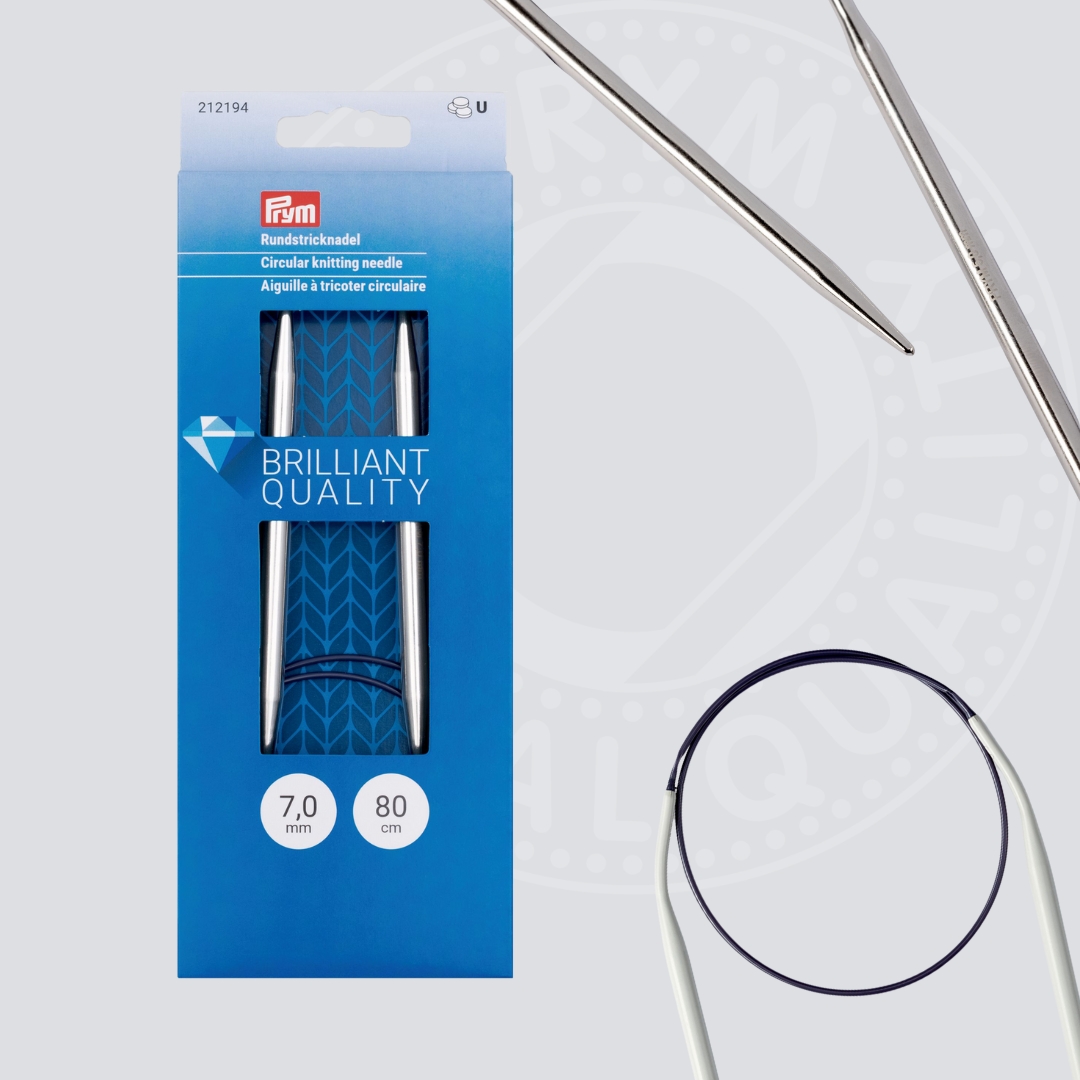 ​Wool crochet hooks
​The classic wool crochet hook allows the hook to sit in the hand in a work-friendly manner thanks to its grip-friendly guide surface. The thumb rest is non-slip - so the wool crochet hook can be guided safely. The lightness of this crochet hook also matches this, because it is made of aluminum. The specially aligned thread groove ensures an even flow of thread and thus an even stitch pattern. The wool crochet hooks are perfect for crocheting hats, scarves, bags, pillows and more. The silver colored wool crochet hooks are 14 cm long and available in sizes 2 - 5 mm.
From 6.0 mm, the needles are made of plastic, so that they remain easy to hold.
​DISCOVER PRODUCTS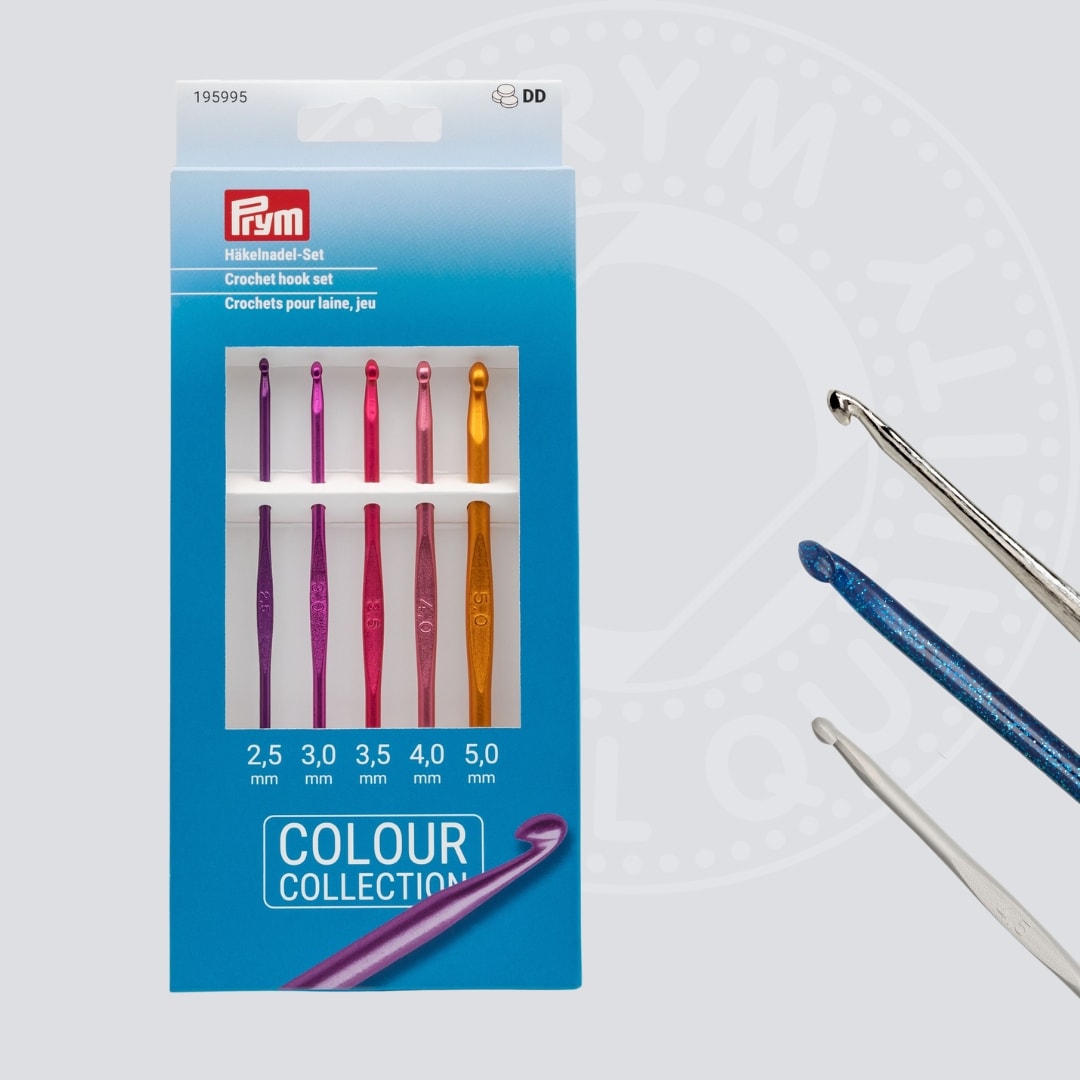 ​Crochet hook with soft-grip
​With this high-quality wool crochet hook, crocheting hats, scarves, bags, blankets or accessories is even more fun! The soft and comfortable soft grip is pleasant and non-slip in your hand. The end of the handle ends in a conical shape and adapts to the crocheter's hand position while crocheting. The silver coloured hook is completely smooth and burr free. At the same time, the thread groove allows an absolutely uniform thread guidance. The needle size can be recognised by the colour coding. Available in different lengths and needle gauges.
​DISCOVER PRODUCTS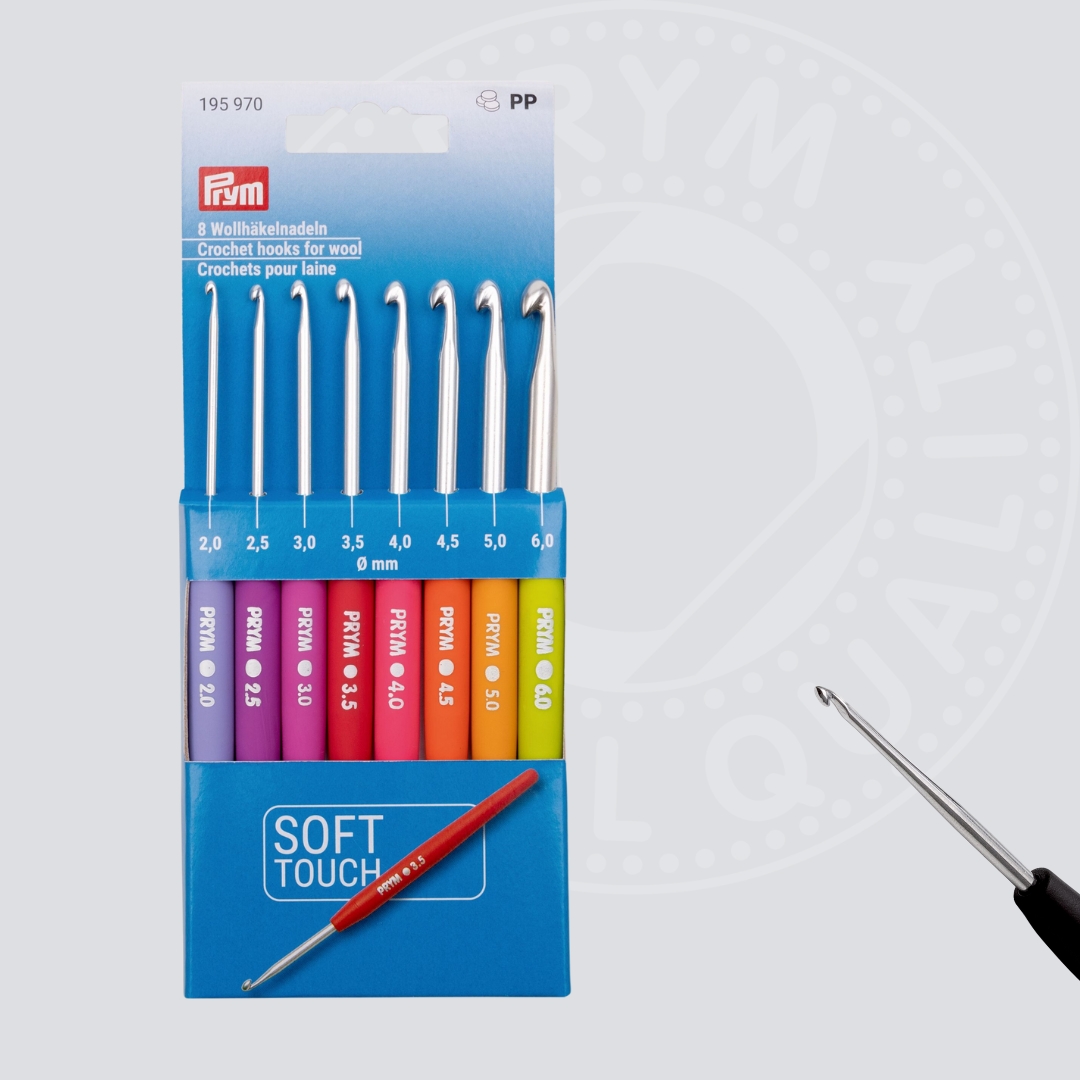 ​Yarn crochet hooks
​With the yarn crochet hooks, the user gets a solid needle in well known quality. It is made of high quality, corrosion-resistant steel and is characterized by optimal handling. The rest on the shaft provides a perfect grip and guide surface for the thumb - crochet projects can be completed quickly and without slipping. The yarn crochet hook is silver coloured and available in different needle sizes - for very fine or delicate work. For an optimal overview, the needle gauges are visibly placed on the thumb rest.
​DISCOVER PRODUCTS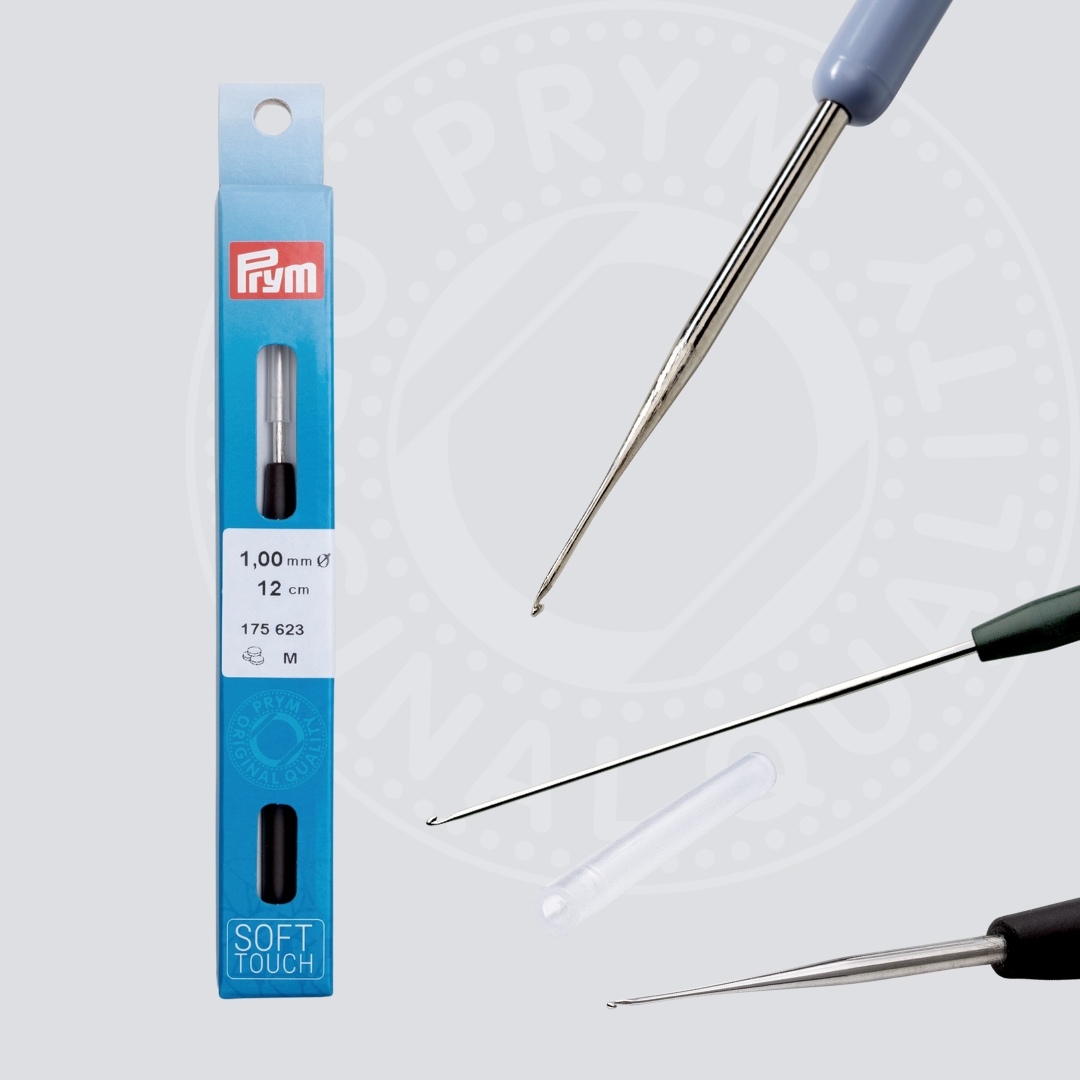 ​Tunisian wool crochet hook, double-sided
​For those who are looking for new inspiration to create original projects, the Tunisian wool crochet hook is the ideal tool. With double-sided Tunisian crocheting, all pieces look like they have been woven. It is also popular for crocheting with two different coloured yarns or for seamless crochet in rounds. The extra long wool crochet hook possesses a crochet hook head at the end of each needle - it allows you to pick up many stitches easily and quickly. The needle is made of high quality materials and despite its stability, it is light and easy to use. The Tunisian crochet hook is available in 15 cm length and up to 6.0 mm thickness in aluminium and turquoise colour.
​DISCOVER PRODUCTS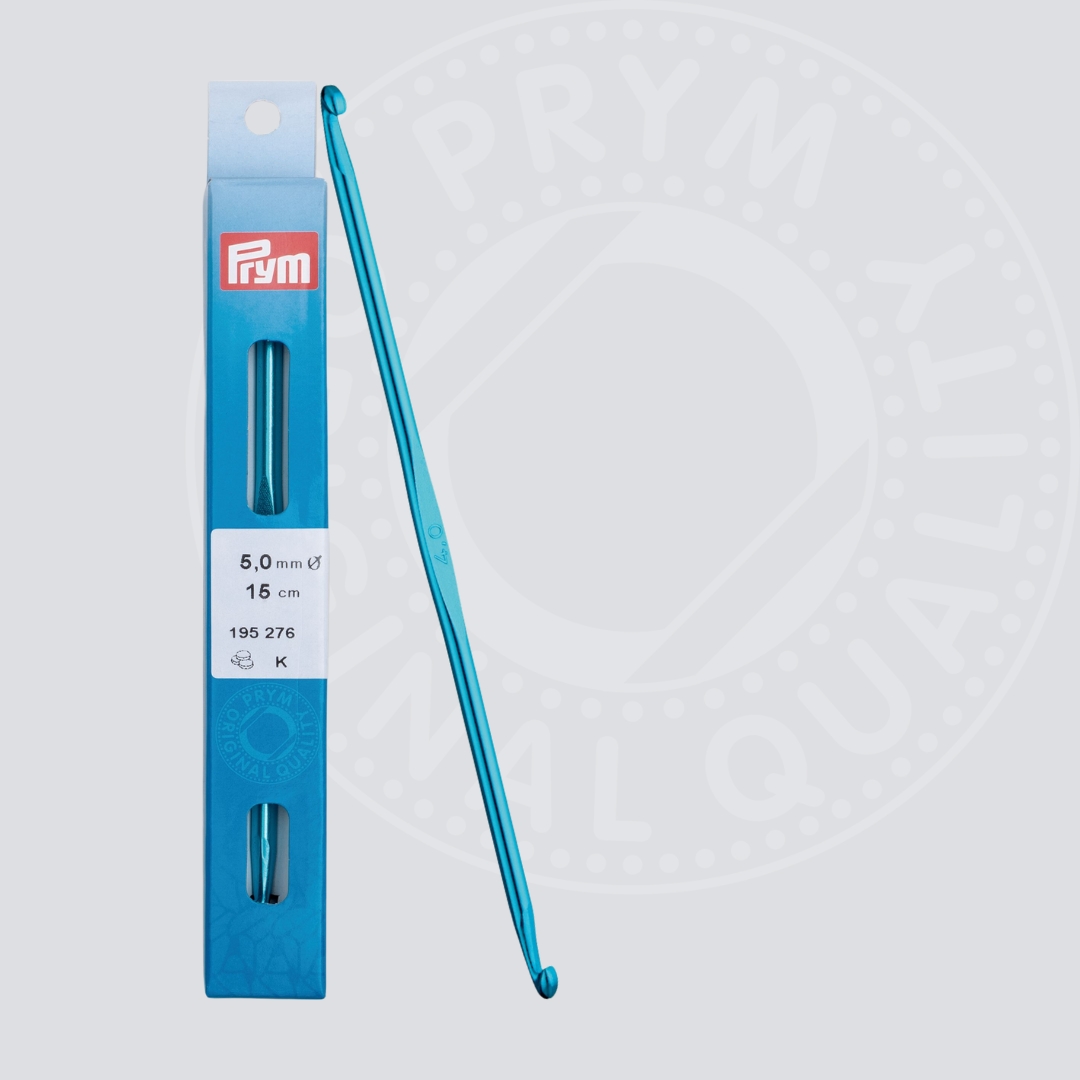 ​Knitting mills
​Prym Originals knitting mills come in three sizes: MINI, MIDI and MAXI. The larger the knitting mill, the larger the circumference of the knitting tube.
Their operation is so simple that even children can knit with great pleasure colorful knitting tubes in a variety of colors. After passing the yarn through the lower and outer yarn guides according to the instructions, you simply let it slide into the middle shaft of the mill. Now all you have to do is follow the hook sequence for the first round, and from then on you just crank. Weighted down by a provided weight, the finished knitted tube slides out of the bottom of the knitting mill. When it has reached the desired length, can be further processed.
​DISCOVER PRODUCTS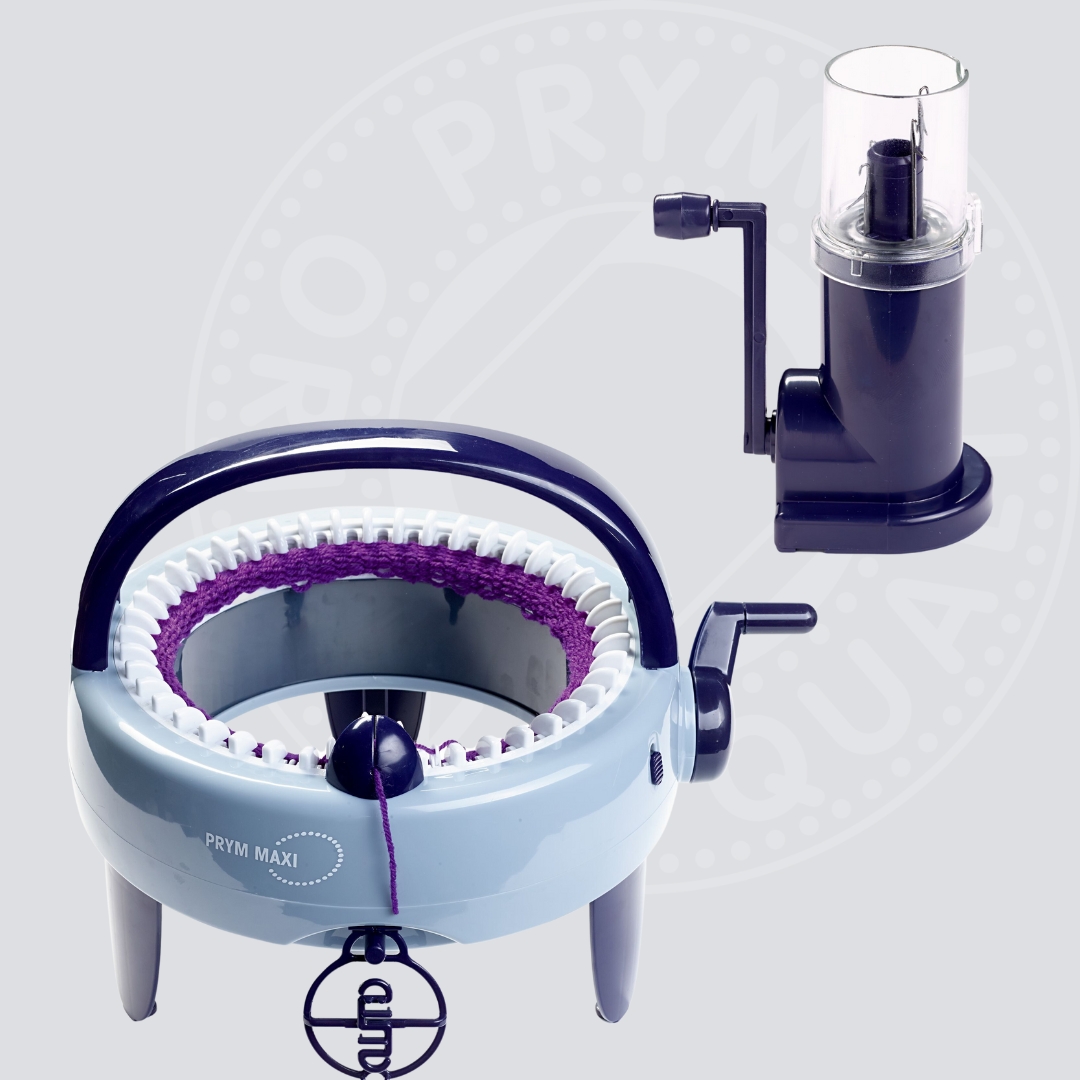 ​Discover our knitting needle and crochet hook variety.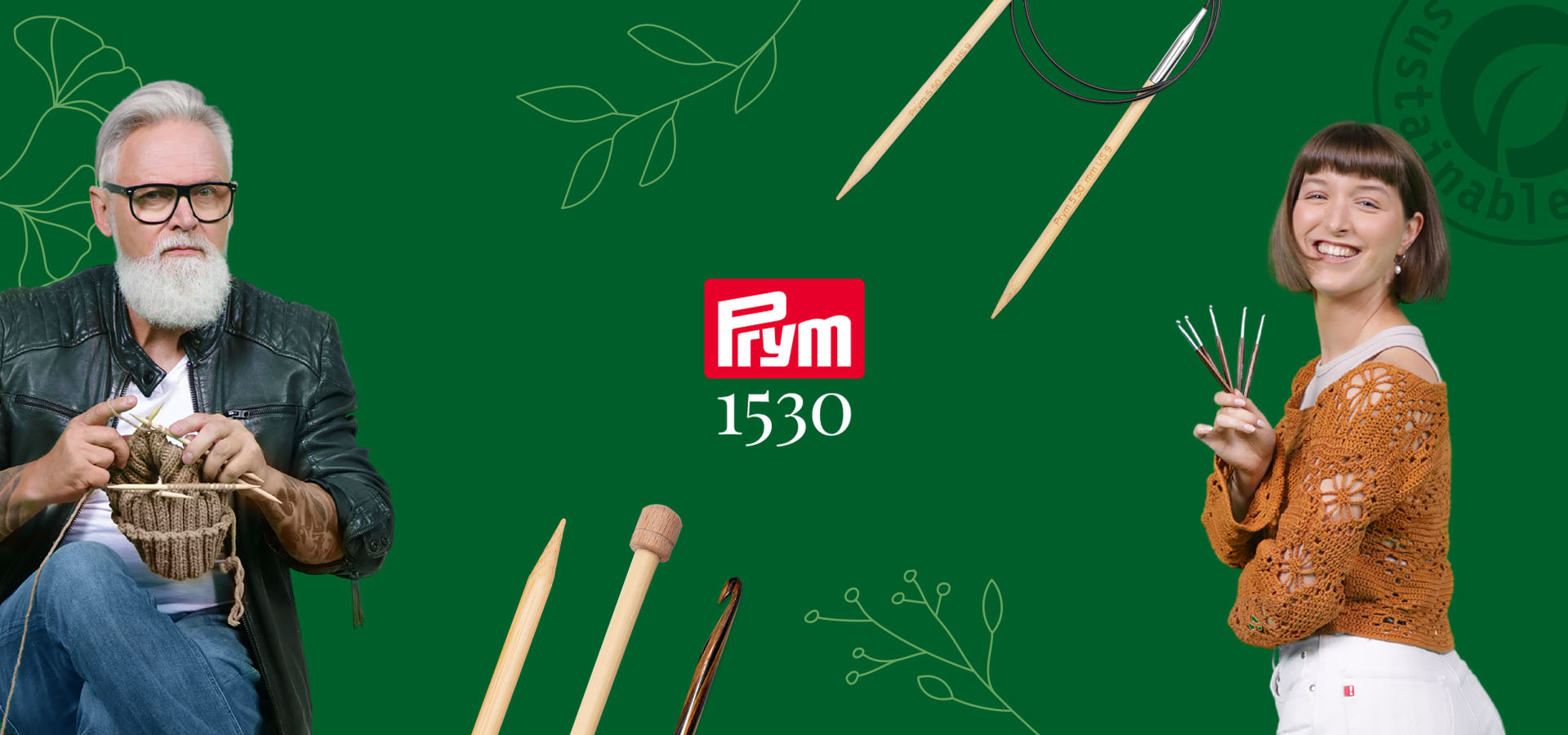 1530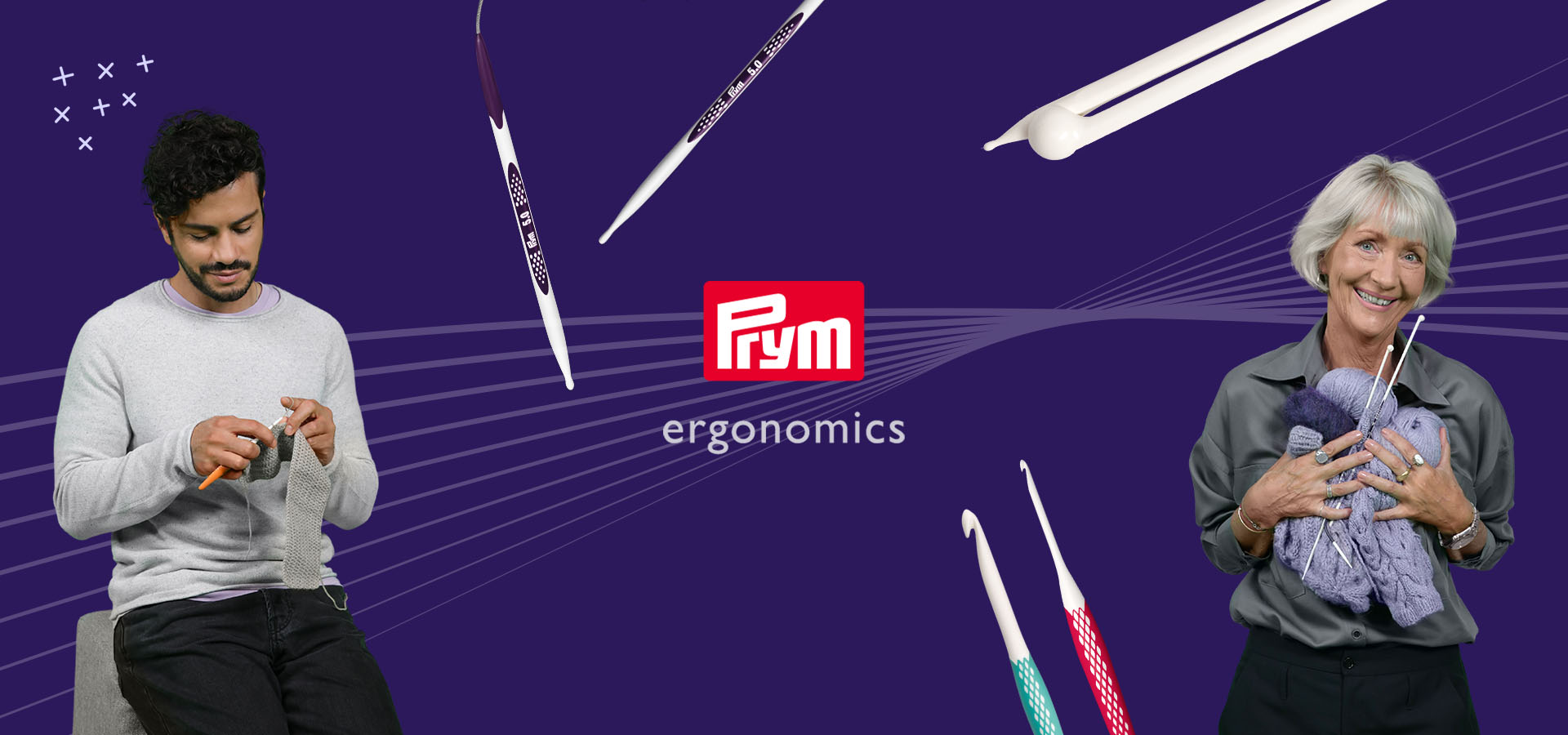 Ergonomics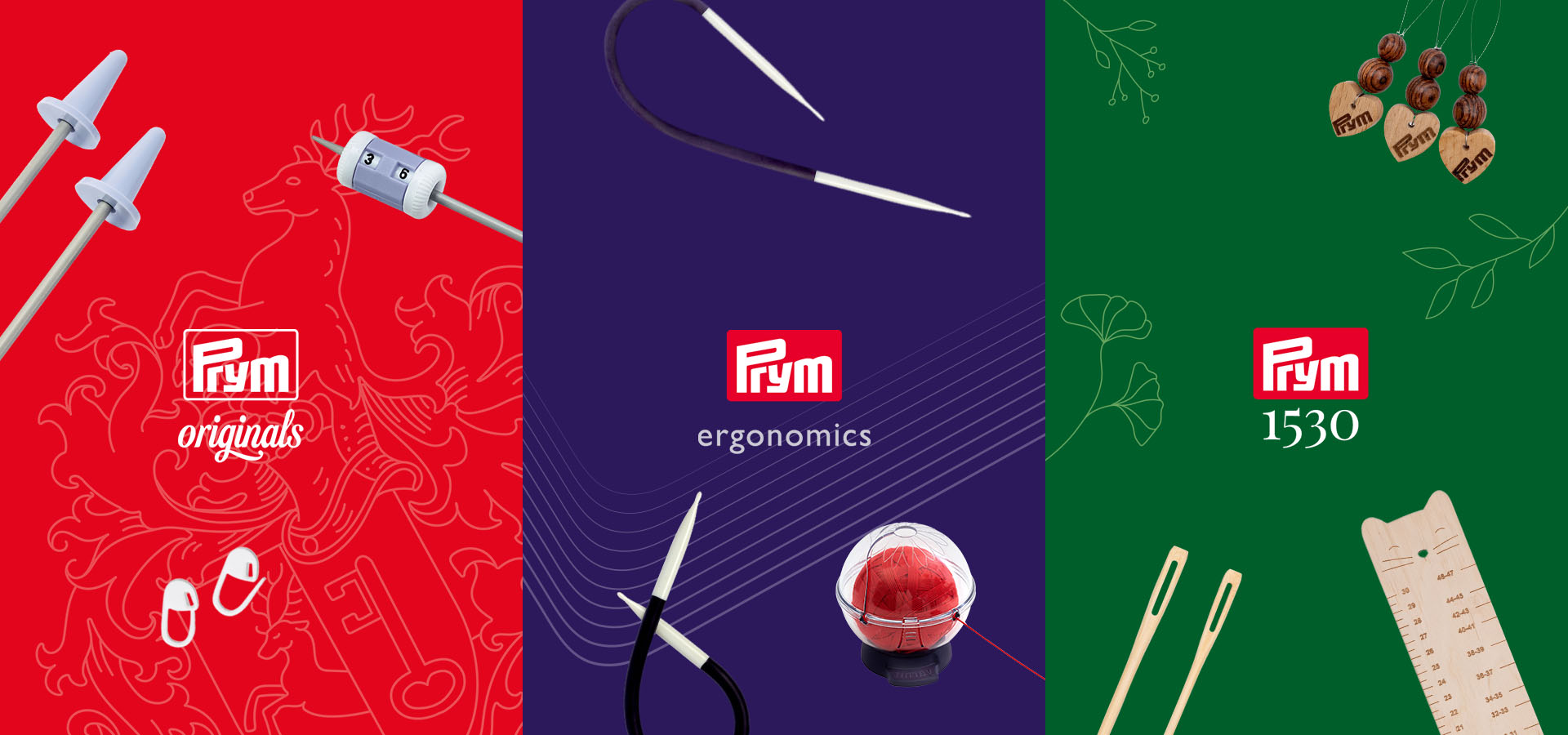 ​Accessories